Mamedyarov vs Kramnik
20 april 2010 15:11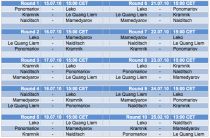 Nine times already did he win in Dortmund, and this year Vladimir Kramnik will be defending his title, again as the top seed. The organizers announced the participants today; besides Kramnik the field has Shaxriyar Mamedyarov (Azerbaijan), Ponomariov, Leko, Naiditsch and Aeroflot-qualifier Le Quang Liem.
The 38th edition of the Dortmund chess festival takes place July 15-25 in the city theater of Dortmund, Germany. With Kramnik, Mamedyarov, Ponomariov, Leko, Naiditsch and Le Quang Liem the tournament boasts of an average rating of 2734. Just like last year (and just like the Kings Tournament in Bazna in June) the tournament is a 6-player, double round-robin.
For the first time Dortmund uses the Sofia rule. This is stated in the press release (without calling it the Sofia rule): Well, that last sentence may fool the mainstream media, but chess fans know better. Although having a positive influence on the fighting spirit, the Sofia rule certainly doesn't guaranteefighting chess. If both players want to draw, they'll find a way, as we've seen many times in recent years (Chess Vibes).
Traditionally the drawing of lots for the Dortmund tournament always takes place months in advance. This means the players can already start preparing concretely, since the full schedule is known already:
Dortmund 2010 | Schedule

printer friendly version
Viewed: 1935